Do not neglect to do good and to share what you have, for such sacrifices are pleasing to God.
— Hebrews 13:16
Every week, over 100 volunteers dedicate hours of their time to make worship possible. Through sharing their specific gifts and talents, these generous individuals make King of Kings a great church home week after week.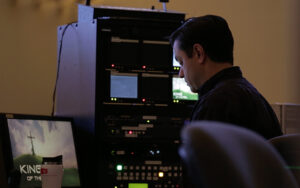 Production & Tech
These are the folks that make everything you see and hear in worship possible. The production and tech team manages the audio, visual, and lighting aspects at all of our worship services and other special events. Among many other things, team members create a great worship experience by running the sound board for the worship bands and pastors, operating the Power Point slides and playing videos, and adjusting the lighting within the sanctuary. Interested in joining our production & tech team? Contact Chris Vorrie at chris.vorrie@kingofkingswoodbury.org.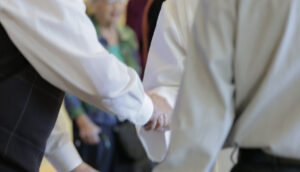 Welcome Ministry and Greeters
These are the folks that make sure you feel right at home the moment you walk in our doors. Welcome Ministers arrive early each week and greet everyone who comes to worship with a friendly word and a smile. They are the first faces that people see when entering King of Kings and are happy to answer questions and provide resources to help visitors become familiar with our church. To learn more about the Welcome Ministry and becoming a greeter, contact Heidi Bardwell at heidi.bardwell@ymcatwincities.org.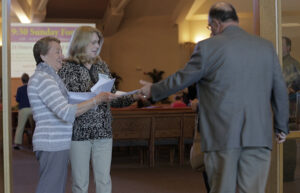 Ushers, Readers, and Communion Assistants
These are the folks that assist the pastors to ensure that every worship service moves smoothly and efficiently. For more information on these opportunities, contact Chris Vorrie at chris.vorrie@kingofkingswoodbury.org.
Ushers – Hand out service programs before worship, provide seating assistance, distribute offering baskets, and clean the sanctuary following worship.
Readers – Deliver weekly scripture and other relevant readings from the pulpit during all services. In doing this they give the Word a new voice to compliment the pastor's sermon.
Communion Assistants – Aid in the distribution of communion during worship services. Working in pairs, communion assistants offer bread wafers and wine with a blessing to worshippers.
Please call or email if you have questions, concerns or would like more details
Chris Vorrie
Director of Worship & Arts
651-289-8038



These are the times we worship together as a community. If you're in the greater St. Paul area, make plans to join us!
Saturday:
5:17 p.m. Contemporary*
Sunday:
8:15 a.m. Traditional Communion
9:30 a.m. Traditional*
10:45 a.m. Contemporary*
*Communion on 1st & 4th weekends of the month

---
---