2021/2022 Kids of the Kingdom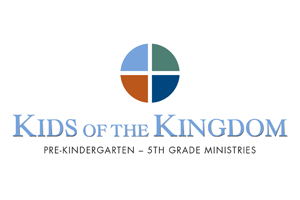 Kids of the Kingdom partners with families to nurture and grow the faith of children. As parents, you are the primary faith nurturers for your children. Our goal is to help you inspire and further their faith through worship, fellowship, learning, service, and outreach.
Classes are offered Sundays during the 9:30 and 11:00 a.m. services (September–May).
Kids of the Kingdom is for children age 3 (must be 3 by September 1, 2021) through 5th Grade for the 2021/2022 school year. In addition to students learning God's word in individual classes, we also offer special educational opportunities for our students in worship and grade groupings. Every child is placed in a class of children in their same grade level. Each class has its own volunteer teachers and stays together throughout the school year learning and taking part in various activities.
We rely on volunteers to teach our children. Two to three volunteers are placed in a classroom to teach on a rotating schedule. This allows for greater flexibility for our volunteers. If you are interested in volunteering to teach (you receive one free registration) please contact Paula Arland.
Register Here
MEDICAL/PHOTO RELEASE FORM: Please click here to download form; complete, then return to the office or upload via the form for your registration to be complete!

We at King of Kings believe that growing in faith is a lifelong journey. It's a journey that starts when we enter into formal education in Pre-K and winds its way through Middle School, High School and beyond.