"As you therefore have received Christ Jesus the Lord, continue to live your lives in him, rooted and built up in him and established in
the faith, just as you were taught, abounding in thanksgiving."
— Colossians 2:6-7
Our goal in Middle school Ministry is to create a community where all are welcome and included. A Place where students can come grow in their faith, and where students can build, grow, and develop relationships.
We invite YOU to come and join us and grow with us!
7:00–10:00 p.m.
Join us on January 26 as we break out the glow sticks and play some games! We play some big game favorites like Extreme Spoons and Humans vs. Zombies, and learn some new games throughout the night as well. Open to all students in 6th-12th grade. Cost is $5. Registration will open in January and additional details will be sent by email beginning in December!
12:15-3:30 p.m. Break out your winter gear and let's go tubing! We will meet at church at 12:15 p.m. and drive over to Green Acres together. We will hit the slopes and have some fun!
Please contact Michael at
michael.carmack@kingofkingswoodbury.org
if you would like to go (including parents), and if parents are interested in driving,
Snow Tubing Release of Liability Waiver (Click here to Print Release Waiver)
Green Acres requires everyone that participates in snow tubing to read and sign a waiver. Tickets are purchased in person prior to desired session. Waivers are required— print out in advance or complete in person to exchange for your tickets. One waiver is needed for each participant snow tubing and it must be signed by the participant (or parent/guardian if under 18).
Faith milestones seek to carry out the baptismal promises that are made when each student is baptized and to provide tools to incorporate faith into the daily life of their family. Important faith concepts are taught through parent/student workshops, retreats, worship experiences, and classroom lessons.
6th Grade
Small Catechism (10 Commandments, Lord's Prayer, and Apostle's Creed), Martin Luther, Prayer, and the Structure of the Bible.
7th & 8th Grade

Community & Discipleship – What does it mean to be part of a community and what does that mean for me?
Stewardship & Service – What does it mean to care for creation and serve others?
Faith Project – What do you believe and what do I believe?
Confirmation – Where does my faith journey go from here?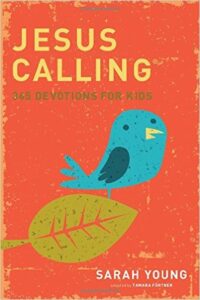 Jesus Calling For Kids This is the book Pastor Liz referenced at REV/Fusion combined worship on January 6th. It's a wonderful family devotion. It's short, sweet, easy to understand, and creates space for great dialogue about God, faith, and life. It can be purchased on Amazon or at LifeWay.
We hope these resources will be helpful!
Youth Service Bureau helps youth and families learn the skills they need to be more successful at home, in school and throughout the community. www.ysb.net   Check out their Fall Series for Parents with the below topics/dates. All sessions are held from 6:30 – 8:00 p.m. and cost $5. Register online or pay at the door.
September 24: Tackle School Stress
October 22: Set Limits — and Enforce Them
November 19: Log-on to Social Media
Technology Conversation Guides for Parents
Middle School  Directed at middle school students or those who are just entering the world of social media, this will give you some ideas for how to start a conversation about technology with your student. Whether you want to talk about setting healthy boundaries, safe social media use, or learning how to use certain apps or social media platforms, this guide can help you start the conversation.
High School  Directed at high school students or younger tech savvy students, this will give you some ideas for how to start a conversation about technology with your student. Whether you want to know about what they are doing on their phone all the time, how their friends are using social media, or making them aware of the consequences that come with poor choices later in life (like college and work), this guide can help you start the conversation.
Please call or email if you have questions, concerns or would like more details!
Michael Carmack
Middle School Coordinator
651-289-8029

King of Kings Summer 2019 Activities
---
---
---
---
---
---