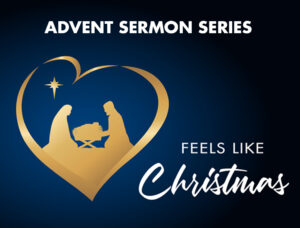 Advent Sermon Series: Feels Like Christmas
The four weeks leading up to Christmas are what's known as the season of Advent. Advent is a time of hopeful anticipation. During this season we will be lighting the candles on the Advent Wreathe as a countdown to Christmas and celebrate the birth of Jesus who is the light of the world. Each of the candles that is placed around the Advent Wreathe are either named after the events captured in scripture that tell the story of Jesus' birth, such as the Prophets, Bethlehem, Shepherds and Angels Candles or the gifts that we receive in Jesus of Hope, Peace, Joy and Love. 
The mere mention of the word Christmas can bring about all sorts of emotions. I'm sure you felt something well up in your spirit as you read that first line. But those emotions can start long before the decorations are unpacked, the shopping begins and the list of preparations begin to get checked off. Perhaps you're dealing with some of the emotions that begin to churn as this Holy Season quickly approaches.  
Yet the emotions that are wrapped up in this season go a bit deeper than the "Big Four" just mentioned. There can be feelings of Panic, Wonder, Awe, Fear, Grief, Anxiety, Worry, and Adoration. While we will be hitting some of these emotions as part of our Advent Devotional, which you can pick up at the church or find online, we invite you to worship as we will be wrestling with the emotions of Christmas in a series entitled, "Feels Like Christmas." 
Come experience this time of preparation as we wade through some of the emotions that often accompany this Holy Season.

November 28: Feels Like… Panic
December 5: Feels Like… Wonder
December 12: Feels Like… Awe
December 19: Feels Like… Fear