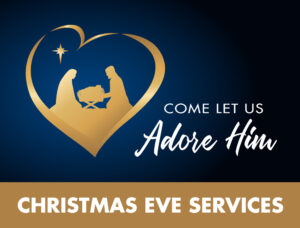 Christmas Eve, December 24
Come Let Us Adore Him

This Christmas, our worship theme is "Come Let Us Adore Him." This commonly sung phrase reminds us that
we can let go of the things that hold us down, and instead find life in the warmth and love of the Light of the World.
Christmas Eve Worship Services will be at 1:00, 3:00, 5:00, 7:00, 9:00 p.m.
Our 1:00, 7:00 and 9:00 p.m. services feature Christmas hymns led by organ and highlight a variety of music by our ensembles and talented musicians. Our 3:00 and 5:00 p.m. services include your favorite Christmas songs led by our worship band and are filled with a variety of music.
We look forward to sharing an inspirational and hope-filled message with you!