"As you therefore have received Christ Jesus the Lord, continue to live your lives in him, rooted and built up in him and established in the faith, just as you were taught, abounding in thanksgiving."
— Colossians 2:6-7
The Road Through Confirmation
We here at King of Kings believe that growing in faith is a lifelong journey. It's a journey that starts when we enter into formal education in Pre-K and winds its way through Middle School, High School and beyond.
We are specifically calling the 6th-9th grade program The Road Through Confirmation, as our prayer is that Confirmation is not seen as a graduation or an end of a journey, but a milestone along their life long journey of faith. Our students, whether they are setting out for college, military service, entering into the work force or perhaps even as they begin a family of their own will experience a faith that sticks.
For more details on this progression, please review the following:
Ministry Overview
Ministry Plan for 6th – 9th Grade
Middle School Education (6th-8th Grade)
6th Grade is a Foundational Year: In-between Concrete & Abstract Thinking
• Prayer: Practices
• Martin Luther & history of Lutheranism
• Small Catechism: Lord's Prayer, 10 Commandments, Apostle's Creed, & the Sacraments
• Bible Structure: plot overview, authors, how to use resources
• Lock In
7th-8th Grade is for Deeper Exploration: What does it mean for me? 
• Deep Dive into Old & New Testament characters/books & how to read different books (history, poetry, prophets, letters)
• Faith, Life & Culture: Religions & Denominations, Death & Dying, Bible and Science
• Relationships – parents, friends
• Jesus: daily life, miracles
Retreat
7th and 8th grade students will attend a retreat at Camp Wapo to spend time in community playing games, doing Bible studies, exploring Wapo, doing group building activities, and more! The cost of this Road through Confirmation expectation is included in the registration fee for Wednesday night programming. There will be two options: February 2-3, 2019 and an early May 2019 date TBD. The same material will be covered at each retreat. Registration for the retreats will open in early May 2018.
Look for more information about the retreat, including the retreat theme, as we approach the retreat date.
Middle School Leaders Needed for Wednesday Evenings
We are in need of volunteers to be Small Group Leaders for our middle school Wednesday night classes this year! Parent/Student Orientation will be on Wednesday, September 12 at 6:00 p.m. for 6th grade students and 7:00 p.m. for 7th and 8th grade students (1 hour each), with classes beginning the following week. If enough volunteers are found, each small group will have approximately 8 students with 2 adult leaders. No experience in teaching is necessary — the lessons will be sent out ahead of time and are already prepared with Bible readings, discussion questions, and activities — all that is needed is the desire to build relationships with our youth. Whether you are definitely interested or just want to chat to find out more, contact Michael Carmack. Volunteers are the core of our middle school ministry!
Faith milestones seek to carry out the baptismal promises that are made when each student is baptized and to provide tools to incorporate faith into the daily life of their family. Important faith concepts are taught through parent/student workshops, retreats, worship experiences, and classroom lessons.
6th Grade
Small Catechism (10 Commandments, Lord's Prayer, and Apostle's Creed), Martin Luther, Prayer, and the Structure of the Bible.
7th & 8th Grade

Community & Discipleship – What does it mean to be part of a community and what does that mean for me?
Stewardship & Service – What does it mean to care for creation and serve others?
Faith Project – What do you believe and what do I believe?
Confirmation – Where does my faith journey go from here?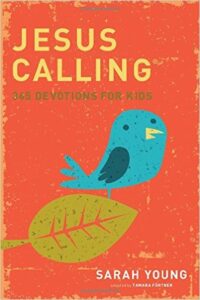 Jesus Calling For Kids This is the book Pastor Liz referenced at REV/Fusion combined worship on January 6th. It's a wonderful family devotion. It's short, sweet, easy to understand, and creates space for great dialogue about God, faith, and life. It can be purchased on Amazon or at LifeWay.
We hope these resources will be helpful!
Youth Service Bureau helps youth and families learn the skills they need to be more successful at home, in school and throughout the community. www.ysb.net   Check out their Fall Series for Parents with the below topics/dates. All sessions are held from 6:30 – 8:00 p.m. and cost $5. Register online or pay at the door.
September 24: Tackle School Stress
October 22: Set Limits — and Enforce Them
November 19: Log-on to Social Media
Technology Conversation Guides for Parents
Middle School  Directed at middle school students or those who are just entering the world of social media, this will give you some ideas for how to start a conversation about technology with your student. Whether you want to talk about setting healthy boundaries, safe social media use, or learning how to use certain apps or social media platforms, this guide can help you start the conversation.
High School  Directed at high school students or younger tech savvy students, this will give you some ideas for how to start a conversation about technology with your student. Whether you want to know about what they are doing on their phone all the time, how their friends are using social media, or making them aware of the consequences that come with poor choices later in life (like college and work), this guide can help you start the conversation.
Please call or email if you have questions, concerns or would like more details!
Michael Carmack
Middle School Coordinator
651-289-8029

---
---
---
---
---
---
---
---