National Youth Gathering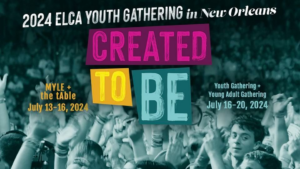 We have been created to be ourselves. Created by the Holy One. Since the last time the ELCA came together for an ELCA Youth Gathering, our young people have experienced several major life events. Still today, we are experiencing an ongoing public health crisis mixed with an economic and political crisis. However, we can rest assured that we are created to be in relationship with one another.
We are created to be brave, to show up with an open mind and heart, willing to be challenged.
We are created to be authentic, to bring our whole selves and know that we are loved by our Creator.
We are created to be free, to be transformed by the gospel.
We are created to be disruptive, to work for justice for all our siblings.
We are created to be disciples, to be sent out into the world to love our neighbor just as we are loved by God.
Our host city, New Orleans, has always been its true, authentic self. Our theme, "Created to Be," highlights the arts, music and soul of this beautiful, vibrant and resilient city. New Orleans was built to host and be a city where all God's children come together.
This experience is open to ALL current 8th – 12th grade students! We will gather with 30,000 other ELCA high school students from all over the US and the world!
To learn more, go to https://www.elca.church/gathering.
To learn more about the theme watch this video: https://www.youtube.com/watch?v=OhGnj2hVoPU&t=3s
For any questions, contact michael.carmack@kingofkingswoodbury.org.
Register below!
National Youth Gathering Registration