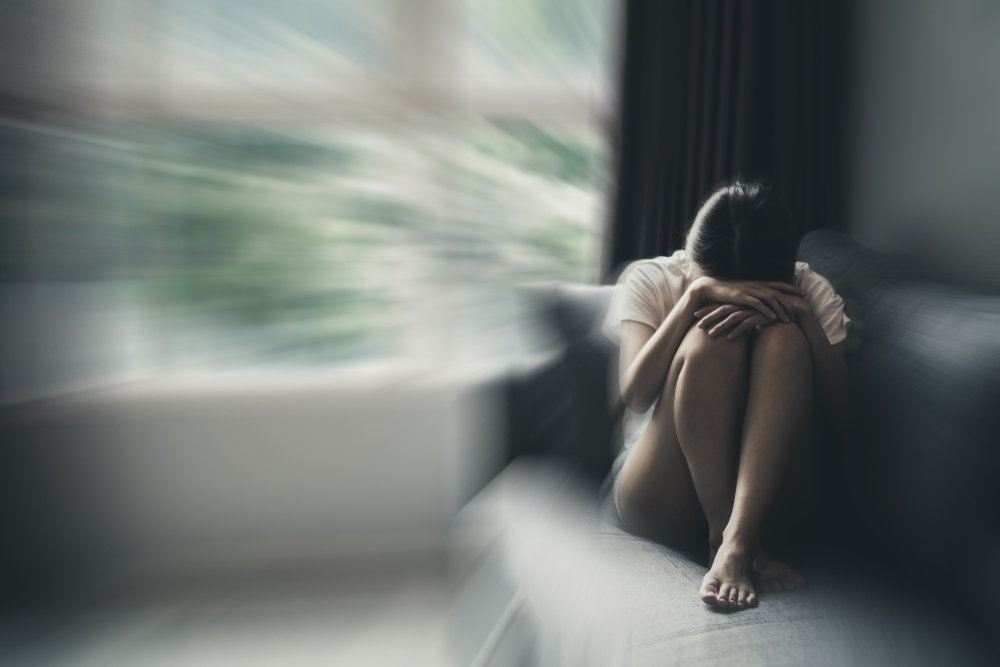 Anxiety, as defined by medical professionals, is an intense, excessive and prolonged worry or fear about everyday situations. Spiritually speaking, anxiety can be considered as a disruption to the peace and calm that we aspire to feel in our daily lives. It can manifest in various ways: sleepless nights, nervousness and even physical symptoms like rapid heart rate.
Common triggers for anxiety include work, relationships, finances, and significant life changes. Anxiety rears its ugly head when we don't feel control in these areas. Traditional methods of managing anxiety include cognitive-behavioral therapy (CBT), medication, and lifestyle changes. However, spiritual methods like prayer, bible study, and participation in a religious community can also be powerful tools in combating anxiety. With that in mind, let's look at some bible verses about anxiety and how you can use them to find relief.
Scripture for Anxiety
You're not alone with your anxiety. The bible shows us how some of the most famous figures in history toiled with their own demons. It's also full of inspiring examples of how they cast off their anxiety and allowed God's truth and love to guide them. These quotes offer powerful lessons on how to reach out to God and find peace when the world feels too difficult to handle.
Philippians 4:6-7
"Do not be anxious about anything, but in every situation, by prayer and petition, with thanksgiving, present your requests to God."
Prayer is one of the easiest and most effective ways to combat anxiety. This verse reminds us to turn to prayer when we feel anxious. Through our personal conversations with God, we can find light during dark times. Additionally, it reminds us of the power of gratitude in our lives and to focus on what we have rather than what we lack.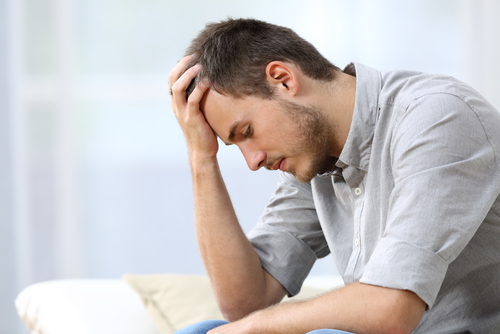 Matthew 6:25-27
"Therefore I tell you, do not worry about your life…Can any one of you by worrying add a single hour to your life?"
The book of Matthew offers a strong reminder that God is always with us. This passage emphasizes the need to focus on the present and trust that God will provide for our future. Think of God as a powerful ally, looking out for your best interests. You're never truly alone.
1 Peter 5:6-7
"Humble yourselves, therefore, under God's mighty hand, that he may lift you up in due time. Cast all your anxiety on Him because He cares for you."
Just as Jesus sacrificed himself for your sins, so can he absorb your anxieties. This verse tells us to cast our worries to God because he cares so deeply for us. Next time you feel anxious, try redirecting those feelings to the higher power. You don't have to carry them by yourself.
Psalm 94:19
"When anxiety was great within me, your consolation brought me joy."
The book of Psalms celebrates God's greatness. This Psalm reassures us that God's word can bring comfort and joy, even in our most anxious moments. Find comfort in the consolation other's have found through God.
Proverbs 12:25
"Anxiety weighs down the heart, but a kind word cheers it up."
Many of us feel isolated when we battle our anxiety. Reaching out to others, leaning into relationships and finding support from friends or family members can help us feel less trapped. Kind words and a loving community can lighten the load and help you feel alive again.
2 Timothy 1:7
"For God has not given us a spirit of fear, but of power and of love and of a sound mind."
Tap into the strength that God has graced you with, especially the ability to love. You already have the skills you need to persevere, you might just need guidance on how to use them. When you feel stuck, express your love for others and see if it doesn't rejuvenate your spirit.
Romans 8:28
"And we know that in all things God works for the good of those who love Him…"
The book of Romans outlines the gospel and provides a roadmap for how to nurture a relationship with God. This verse reminds us to never waver in our love for God. Through this connection, God will, in turn, love you and give you the strength to move past anxiety and other obstacles in your life.
John 14:27
"Peace I leave with you; my peace I give you."
As Jesus faced the prospect of arrest and crucifixion, his own anxiety must have been immense. Yet, he wishes nothing but peace for his disciples because he trusts in God's plan. This verse gives us a peace that transcends worldly troubles.
The Importance of a Strong Community in Managing Anxiety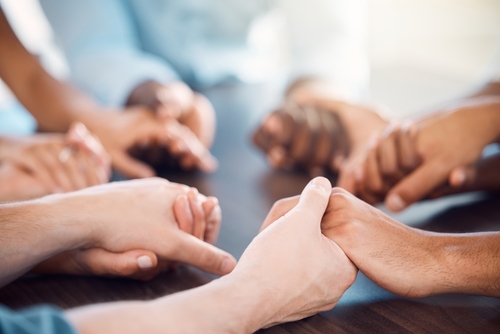 Prayer and meditation for anxiety are great approaches but a supportive community can also be key when navigating difficult mental health issues. We encourage you to reach out within your community for help.
The Role of the Church
A church is more than Sunday worship. Our church serves as a spiritual family where you can find support, love, and encouragement throughout the week and whenever you need. Consider joining one of the various groups that King of Kings sponsors. Engaging in these communities can bring additional comfort and help you develop the tools to cope with anxiety. Collective prayer and worship can also be a powerful experience. When we come together to lift each other up, miracles happen.
The Power of Prayer
Our prayer ministers may not be professional mental health counselors but they do offer the power of prayer. If you're seeking a little extra grace as you battle anxiety, reach out to our church via email. We'd be happy to include you in our prayers as well as offer any additional support. Please don't hesitate to contact us.
Additional Resources
While we hope the above bible verses about fear and anxiety are helpful, there are many additional resources to consider if you're struggling with anxiety. We encourage you to take your health seriously and find the approach that works for you.
Educational Websites
Apps for Managing Anxiety
Online Forums and Communities
Blogs and Articles
Support and Prayer for Anxiety
King of Kings is a community church in Woodbury, MN that is open to anyone looking for spiritual growth, support through life's challenges and heartfelt connections with others. We invite you to join our church family and be a part of what makes us strong. And please share this invitation and blog with anyone you think may benefit from it.