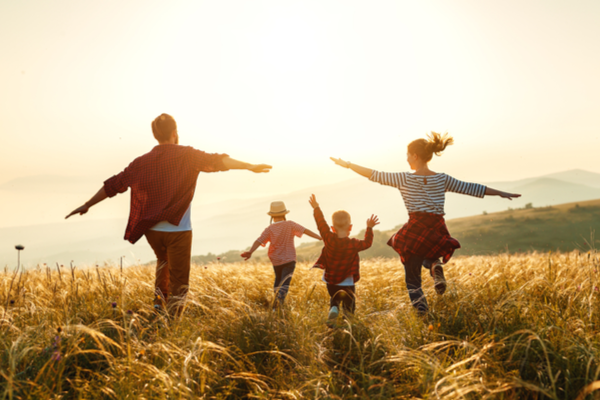 Keeping your family on track and organized is a full time job. While it may be easy to overlook, faith is an important component of your family's growth. Faith comforts us through challenges, guides our decisions and informs how we conduct ourselves. Developing faith based goals can help your family deepen your faith and strengthen your bonds with each other and God.
Family is at the core of our formative years. By creating tangible goals for your family, you can achieve a deeper spiritual connection with each other and God. You can better understand God's purpose for your family and set your family on the path to a more fulfilling life. To succeed, hold yourselves accountable by setting measurable goals and tracking your progress. Here are some suggestions on where to start.
1. Spend Time Together
Nothing nurtures or restores faith like connection. Without setting intentional time, many families suffer from busy schedules and missed opportunities. Put time on your calendar and create routines that bring everyone together. Here are a few ideas on how:
Mealtime. There are numerous benefits of family dinners.  They've been shown to improve mental, emotional and physical health by reducing the risks of depression, anxiety, substance abuse and eating disorders. Even 20 minutes a night can make a difference in how your family relates to each other.
Game nights. We live in a golden age of games. There is one for every personality in your family. From Catan to Monopoly to Go Fish, there's sure to be a game that gets your family's competitive spirit going. Interactive games like Pictionary, Scattergories or Codenames are a great way to promote teamwork and connection through play.
Movies. Popcorn, sodas, pillows and pajamas are the perfect recipe for a night of family fun. Take turns picking the movie to accommodate all tastes. If you're not sure what to watch, here's a list of family movie night suggestions. 
Share stories. Stories are a powerful way to connect. Whether they're make-believe or from real life, sharing stories and listening to each other is a fun and powerful way to bridge connections and shape your family identity.
Date nights. Parents need to recharge their batteries in order to remain good family leaders. Leave the kids at home and rekindle your connection regularly by getting out and doing the activities you love. 
2. Daily Worship Time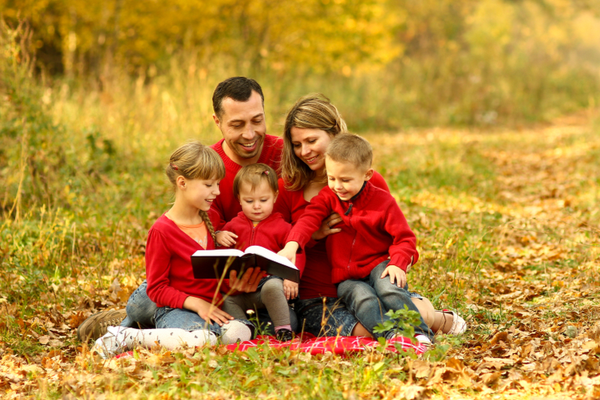 Include daily worship in your time together. Worship can take on many different forms depending on the ages in your home and the time available. Sing songs, pray or read scripture or a Bible story.. Faith based projects include gratitude journals or a prayer wall that you add to weekly if not daily.
Don't limit your prayer to a certain time or to certain people – let everyone participate and lead. Home provides a safe sanctuary where you can have honest and open conversations.
Dig into the Bible! Teaching kids how to read, understand and interpret the text is a lifelong skill that you can begin developing early on and it helps you learn, too. Make time to teach your kids about the Bible and how to read it. If you have young children, start with the Spark Story Bible for easy to understand stories and lessons. King of Kings is happy to provide complementary BIbles for all ages.
3. Serve Together
Volunteer projects are a great way to strengthen a family and faith. Find an organization that aligns with your values and passions and make the experience fun and enriching. You can check the King of Kings connect and serve page for a list of partner organizations and seasonal opportunities. Here are a few other suggestions:
Pick up trash while on a walk
Serve at the local food shelf
Join the garden committee at King of Kings
Tutor kids after school
Help older neighbors with chores
4. Lead By Example
Show God's character through your actions. The best way to demonstrate your faith is through your behaviors and the way your family respects one another.
Kids often see others say one thing but act differently. Match your actions to your words and conduct yourselves intentionally. Discuss what your values are and then find ways to live them. Faith consists of the Fruits of the Spirit: joy, love, patience, kindness, goodness, faithfulness, gentleness, self-control and peace. How does your family promote these values?
5. Attend Church Service
We're biased but we see church as an important component of faith and family. A church provides community, education, support and spiritual nourishment.
While church service is only a couple hours of your week, use the lessons discussed throughout your week. King of Kings provides weekly worship homework for individuals or families to discuss. Attend extracurricular activities within the church to grow your involvement, connection and faith.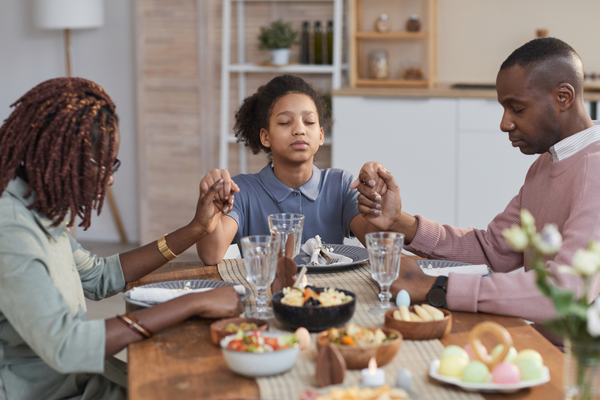 6. Become A Family with Purpose
Goals help families grow. Follow through with your family goals around faith and don't become discouraged when you lapse. There is no better support than the church to recalibrate your path. Community promotes action and actions promote behaviors. Build a daily foundation of faith that helps enrich and enhance your family with support from King of Kings Lutheran Church.