Reading the Bible can be intimidating. It's a dense, ancient text that has multiple translations. Its earliest sections were written thousands of years ago by authors who had a very different story telling sensibility than we're used to today. This different style may force you to slow down and consider the Bible in sections but where to start?
Luckily, we have many great resources to help us understand the Bible. With some patience and the right tools, you can begin to read and appreciate this most important book. Along the way you'll hopefully develop a greater closeness with God and a better understanding of how the Bible is your story too.
How to Begin Reading The Bible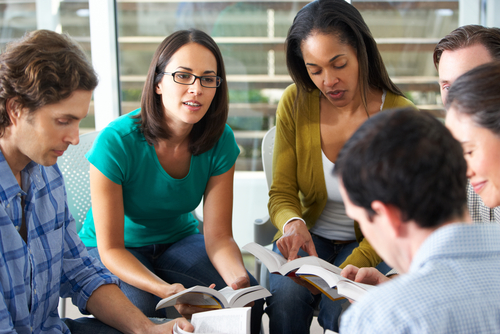 You're probably wondering where to start. The good news is that you don't have to read the Bible from cover to cover. You can jump around from The Old Testament to The New Testament and from book to book or even passage to passage. That being said, it helps to have some understanding of the Bible's overall story arch so that you can place whatever section you're reading in a greater context. We'll cover that in a moment.
As far as jumping on points, The Gospels are often cited as good introductions for new readers. The books of Matthew, Mark, Luke and John are all compact versions of Jesus' life, each from a different perspective.
Many people emphasize the importance of Genesis, Exodus, Leviticus, Numbers and Deuteronomy. Collectively known as The Pentateuch, these first five books outline the creation of earth, the downfall of man and the lives of important early spiritual leaders like Noah and Moses. It may be worth gaining this foundation early in your process.
The Bible's Story Arch
The Bible is essentially the story of mankind's downfall and its attempt to find redemption. The Old Testament tells of Adam and Eve's fall from grace and the aftermath of their actions. After their exile, God chooses the Israelites through Abraham and Sarah to return mankind to His ways. Unfortunately, many of the Old Testament characters struggle with sin and their ability to trust God. As a result, they fail to be the light in the world that God wants them to be.
God then realizes he needs a stronger approach. The New Testament is the story of how God sacrifices Jesus, His only son, so that we can be forgiven for our sins. Much of Lutheran belief is founded in the teachings of the New Testament.
How To Read and Understand The Bible: 6 Tips
1. Choose An Easy Translation
In the past, The Bible was written in Greek, Hebrew and Latin. Today we benefit from a good number of translations that make it more "readable." The New Living Translation (NLT) is a popular and approachable version that includes footnotes to explain complex passages. The English Standard Version (ESV) or the New International Version (NIV) are also editions that attract new readers.
2. Center Yourself First
Meditation and prayer and good practices before you start reading. Open yourself to God's word and invite The Holy Spirit to join you. A well known practice dating back to the third century is called Lectio Divinia. Originally practiced in monasteries, it involves focusing your breathing and then choosing a small section of text to concentrate on. You read, listen and reflect while going over the same lines multiple times. The idea is to notice what parts of the text speak to you and how Jesus is calling you through this reaction. King of Kings offers a free subscription to RightNow Media, a streaming library of more than 20,000 bible studies including the Lectio Divinia. For instructions on how to join, scroll to the bottom of our education page.
3. Pick Sections to Work Through
Have a plan as you read so you don't find yourself jumping around and forgetting your place each time you sit down to read. Choose a section and record your progress. If you work through one book at a time (not necessarily in order) you'll eventually cover them all.
4. Maintain A Consistent Habit
Your understanding of the Bible along with your relationship to God's word will increase with daily effort. Dedicate even a few minutes a day to unlock more pieces of this narrative so that you can continually internalize their message.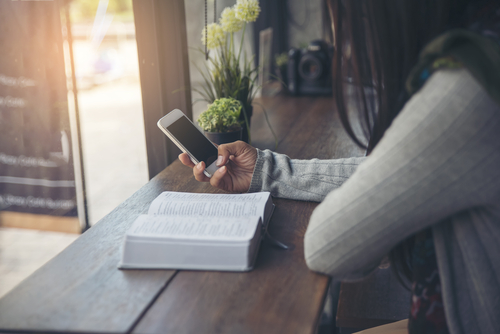 5. Use a Bible App
We use our phones in so many ways every day. Why not leverage it to help you understand and interpret The Bible? It's a great opportunity when you're waiting for an appointment, on lunch break or just winding down.
Use your app to listen to verses, star favorite passages, gain greater context, make personal notes, share with friends and more depending on the app. Some popular apps include Blue Letter Bible, Bible Gateway, Accordance, and Olive Tree.
6. Read With Others
Reading and discussing the Bible with others is a wonderful practice that helps grow your understanding and passion for it. Join a Bible study class or schedule a weekly time with friends. This can be a good way to solidify your reading habits.
How to Help Young People Read The Bible
There are many ways to introduce young people to the Bible. Starting at an early age, Christian story books that retell sections of the Bible can begin to fill in the blanks for toddlers and adolescents. As kids grow, Christian YA literature can perform the same role and help transition readers to the Bible. There are numerous Bible apps for kids to spark their interest at any age.
The best way to introduce young people to the Bible and get them reading is with Sunday school. King of Kings offers a range of classes from preschool to young adult. Be sure that your child receives their free Bible as part of their participation.
Learn The Bible Through The Church
Every Sunday, King of Kings opens its doors to anyone who wants to learn more about the Bible. Pastor Jon will highlight texts and the meanings behind them during sermons and he's always happy to help guide readers – new and old – on their journey. We'd love to have you join us!